LLC "ELECTRO SERVER" is a plant for the production of electrical equipment, located in the Central region of Russia – the Tambov region. The company was founded in 1999.
The plant has been working for more than 20 years to create conversion equipment for strategically important sectors of the country's economy: metallurgy, energy, mechanical engineering, railway and urban electric transport, housing and utilities.
Today, the production complex includes: a production shop of 1304.4 sq. m, an administration building of 165.1 sq. m, and a material warehouse. The production complex has workshops: tool, stamping, powder coating, billet and Assembly. In addition, there is a section of non-standard equipment, machining and heat treatment.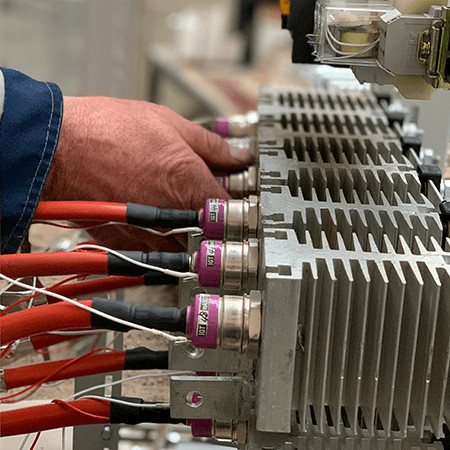 More than 20 years on the market
Production started in 1999.

Production workshop 1304.4 m2
It includes five specialized departments.

Individual approach
We take into account the specifics of each order.

Manufactures non-standard equipment
Design and manufacture of equipment that has no analogues.

Material warehouse
Own warehouse space.

Optimal location of the logistics center
We are located in the Central Federal district, Tambov region.
Types of work performed
Making
Huge experience allows us to manufacture products of any complexity.
Repair and modernization
Modern equipment allows you to quickly carry out repairs, maintenance, and modernization.
Commissioning
Professional staff allows you to quickly and efficiently carry out all the necessary list of works.
Supply of spare parts
A wide range of products and well-organized logistics significantly reduce delivery times.
Service maintenance
From us you can not only buy products but also perform its service.
Training
All products are subject to mandatory verification before sale for compliance with the stated requirements.
Requisites
Limited Liability Company Firm "Server"
Registration certificate Certificate for OGRN 1026801115857 registration date 25.01.1999. Series 68 No. 000286169 issued on 11.11.2002. Interdistrict Inspectorate of the Federal Tax Service of Russia No. 3 for the Tambov Region
Legal postal and actual address:
393255 Russia, Rasskazovo, Tambov region, Komsomolskaya st., 139 Zh
Limited Liability Company "ELECTRO SERVER"
The address:
393255, Tambov region, Rasskazovo, st. Komsomolskaya, 139 Zh